Avoid Wasting Time and Money On Guitar Lessons
90% of people who start guitar quit within their first year!
Unfortunately, guitar lesson apps and YouTube videos aren't going to save them.
Because real live humans want and need – live time feedback, an individualized diagnosis of their playing, and an experienced instructor that cares about their goals.
So, it's essential to do the research to find the right guitar teacher now.
Because not working with a qualified guitar teacher could put you in a position of wasting time and money by:
Undoing bad habits later
Learning slowly
Missing out on opportunities
Questioning your potential
Being confused and frustrated
Not having fun or being inspired
And turning into that ugly statistic above
Use this handy 7-Point Checklist to make an informed decision about where/who you choose to learn with.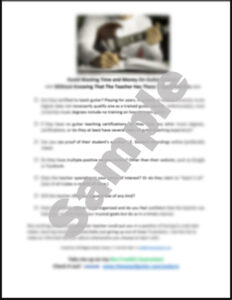 Just add your name and email address below!